Hey, my name is Ashley and I'm 19. Welcome to my beauty blog! I'm new to this whole blogging thing, so hello and I hope you like what I feature (and what I will be featuring) on my blog!
-----
From the glamorous faces of the 40's to the bright smiles of modern celebrities on the red carpet, a red lip is a makeup trend that will never go out of style. Some women are under the false impression that it is nearly impossible to pull off such a bold style unless you're a celebrity. I disagree completely, because when you wear red lips, people look at you like you're a celebrity. The first time I debuted the red lip at my former place of employment, I received very positive feedback from co-workers and customers. It is very possible to wear red lipstick and look very glamorous and sophisticated.
I am a firm believer that any woman can rock the timeless trend of the red lip. First, you must have the confidence to do so. When you feel sexy, you look sexy. And what is sexier than a crimson lip? Red lips can dress up any outfit, and they make a very bold and dramatic statement. Red lipsticks and glosses are made in a variety of shades to not only accommodate personal taste, but also to ensure that every woman can meet her "red lipstick match" according to the color of the undertones in her skin.
To find your undertone, look at the underside of your forearm. What color are your veins?
If your veins appear blue, you are cool toned.
If your veins appear green, you are warm toned.
I reviewed five red lip products (2 glosses, 3 lipsticks).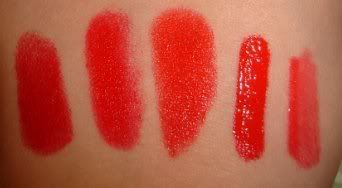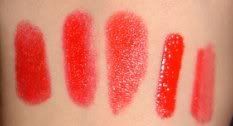 From L to R: MAC Matte lipstick in "Russian Red", Kat Von D Painted Love lipstick in "Underage Red", Maybelline Moisture Extreme lipstick in "Royal Red", NARS lipgloss in "Bloodwork", MAC lustreglass in "Venetian".
Here are my opinions:
MAC Matte lipstick in Russian Red
($14,
www.maccosmetics.com
)
This is one of my favorite lip products. I think this lipstick definitely lives up to the hype. Russian Red is widely acknowledged by celebrities and makeup artists as one of the very best and most universal red lipsticks, also for being one of the first lipstick shades launched by MAC. This lipstick is a matte formula, so it can be a bit drying. That can be easily fixed with a thin layer of lip balm before applying with a lip brush or straight from the tube.
Sephora Kat Von D Painted Love lipstick in Underage Red
($18,
www.sephora.com
)
Like all matte formulas, this lipstick is a bit drying. It is an orange-based warm-toned red. It is a pretty color, though. However, the product isn't anything too spectacular. A bit overpriced.
Maybelline Moisture Extreme Lipstick in Royal Red
($8, at any local drugstore in the cosmetic aisle)
This was my first red lipstick. It has the look and feel of a MAC lustre lipstick. This is a blue-based red lipstick, with a slight shine that gives a slightly 'wet' appearance to the lips.
NARS lipgloss in Bloodwork
($24,
www.narscosmetics.com
)
Bloodwork is a very opaque lipgloss, almost like a liquid lipstick. This is one of my favorite red lip products. It has great staying power and I haven't noticed any problems with the color bleeding/feathering. Priciest item out of the five I reviewed, but I highly recommend it to anybody who loves red lips.
MAC lustreglass in Venetian
($14,
www.maccosmetics.com
)
This is a very, very sheer and "safe" shade of red. It is pink-based with light blue glitters (in the tube) but the glitters are barely noticeable on the lips. This is the perfect gloss for somebody who would like to try a red lip but is a bit hesitant about pulling off such a bold statement.
Tip #1:
A lip brush can be used to control the intensity of the shade you are using. Begin by applying the color lightly, it is much easier to add more color than to try to wipe it off and risk smearing it. If the color is too intense, try blotting a few times with a tissue until you achieve exactly what you're looking for.
Tip #2:
Always use a lip-liner to reduce any chances of the color feathering/bleeding. You can use a lip liner that matches your lipstick or a lip liner that matches your natural lip color.
The red lip sizzles on the runway and on the red carpet, and even on the street!
Dolce & Gabbana Fall show '07 (photo credit: www.allure.com)
(photo credit: www.celebritybeautybuzz.com)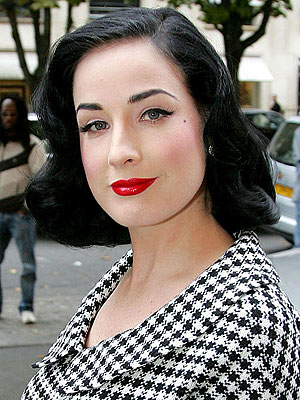 (photo credit: "Style Watch Special" on People Magazine.com, www.people.com)
(photo credits: "The Celebrity Red Lip trend", www.marieclaire.com)