Poppy Palette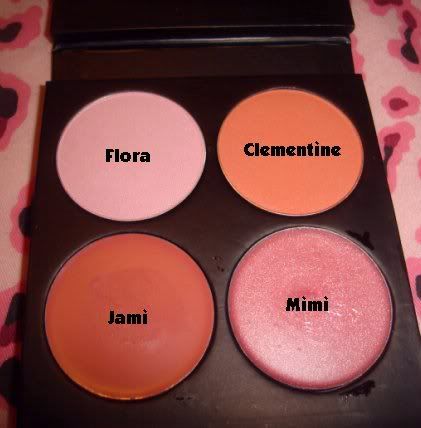 Before I review this specific palette, I just wanted to point out that Julie Hewett has some of the cutest palettes around. Ever. Also,
you can have your own palette customized!
[click the text for information]. Perfect gift idea or even for yourself. Definitely worth checking out. Anyway, back to the Poppy palette...this is adorable. This is perfectly designed for the spring/summer months! The colors range from a light pink eyeshadow ("Flora") to a creamy pink cheek and lip color ("Jami") to a peachy powder that looks gorgeous on the apples of the cheeks ("Clementine") and lastly, a light pretty pink gloss for the final touch ("Mimi")! Add a coat of mascara and the finished look is so soft: ethereal and pretty.

Swatch: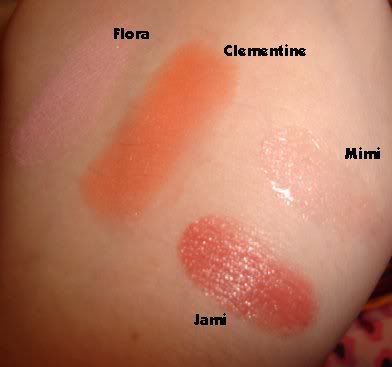 Chloe Lip Lush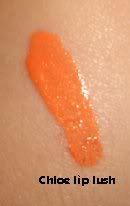 [This lip lush was swatched on my sister's hand, she has warm undertones so that explains the change in the skin tones from the other swatches!]
This is such a pretty peachy color. It doesn't wash me out a bit, which is a huge problem for fair skinned girls like myself. THIS is the perfect peachy tangerine gloss that so many have been searching high and low for to wear during these warm summer months. This is it, ladies (and gentlemen)! Your search ends here. I highly recommend this.
Matching Lip Pencil in "Belle Noir"
The thing I love about this lip pencil is that it looks amazing on its own or under a lipstick or lipgloss. I have noticed with other lip pencils I have tried, they 'tug' on my lips as I try dragging them across to fill in my lip shape, but that is so not a problem with this. I love love love it. A definite winner for me. Not to mention that I adore the color! Check it out
here!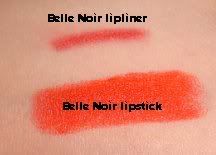 Noir Collection Lipstick in "Belle Noir"
This was love at first swipe for me! Ohhhh my. Perfect for summer. It looks amazing with my fair skin and my red hair and really brings out the golden tones in my brown eyes. Wow. When I was picking out an outfit for my friend's 22nd birthday party, I actually picked out my dress and heels based on this lipstick! Needless to say, it was a hit! Check out "Belle Noir" and the rest of the Noir collection
here!
Just for fun: Find out which of the lipsticks from the "Noir" collection you are!
Seriously, if you haven't already, PLEASE check this brand out! It's definitely worth a try!
http://www.juliehewett.com
-ashley