Wow. All I can say is that Cliche Cosmetics pretty much rocks. You can customize your own palette to create your own full look! You can buy pre-made palettes or make your own. There are so many different combinations to choose for the 4 eyeshadow spaces, you can choose: a lid and crease color, a liner, and a highlighter or you can choose four shadows (like I did in my custom palette). The bright colors are extraordinarily pigmented and show up beautifully in person and on camera! There are eight cheek colors to choose from: six blush shades, and two shimmer shades. I chose the light pink shimmer shade, it's an AMAZING highlighter! Finally, there are four different lip shades: 2 glosses, and 2 lipsticks. I chose the pink lipgloss, it's a beautiful bright pink with golden flecks. What would you choose?
Click
here
to browse pre-made palettes!
But there's more! You can also browse face products, eye products, lip products and Cliche Cosmetics even has a brush set!
I LOVEEEEEE the HD lipgloss. I tried "Strawberry". The color is sheer bright pink, instantly brights up my NW15 complexion - especially on a humid summer day! Not to mention the amazing smell. I couldn't stop sniffing the application wand!
Check it out! I know that my readers have great taste in cosmetics and really know a good value when they see one! You won't be disappointed by Cliche Cosmetics, trust me!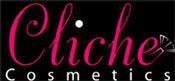 -ashley