I decided to take a break from reviews for a day or two and write about something I love: lipstick. Some people just cannot justify paying over $10 for a lipstick. If you are one of those people, that's cool. In these economic times, it makes sense. However, I do not have that type of control to pass by a $15 lipstick that I want. When I see a lipstick I want, I need it. However, I am going to feature some kick ass drugstore brand lipsticks that I use (and love). Just because America is in a recession, that is no reason to compromise looking great and feeling confident in yourself. These are my top #3 drugstore brands (and shades)!
Milani Color Perfect Lipstick in "Rose Hip"
I love all Milani products, the colors are so richly pigmented! I can't wait to try out other shades from this lipstick line. Some people have speculated that this shade is a near perfect dupe of NARS Schiap and MAC Show Orchid. It has a faint smell of roses, similar to the smell of Benetint lip balm. I don't find the scent to be strong to bother me, in fact I think it's nice. The color is gorgeous. It's the perfect hot pink, so girly and flirty. I paid $4 for it. That's $10 less than MAC Show Orchid, and $20 less than NARS Schiap! Now,
that's
a bargain! I also have Mandarina from the Color Perfect lipstick line, both are such beautifully pigmented shades. I'm also a huge fan of Luminous blush, it's an exact dupe for NARS Orgasm! I recently introduced my best friend to Milani, she loves the Easyliners (eyeliner and lipliner) and Lumious blush as well.
Revlon Matte Lipstick in "Strawberry Suede"
This lipstick is from the new "Matte" lipstick line that Revlon recently launched. This color is a beautiful, bright and clean strawberry pinky red with coral tones. It brightens up my fair complexion and the contrast next to my hair and skin looks amazing. This is my go-to daytime lipstick. It looks fresh and perfect for springtime, it just makes my face glow! It reminds me of a color that maybe a 50's pin up would have sported, or maybe "Gidget"! I love lipsticks with coral tones, so this is the lipstick I have been searching for! I will continue to buy this color again and again for as long as this line continues to exist.
Maybelline Moisture Extreme Lipstick in "Royal Red"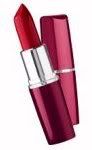 This was my first red lipstick ever, so this shade will always hold a special place in my heart. This lipstick started my lipstick addiction, and inspired me to try out higher end lipsticks. "Royal Red" has a slight shiny finish, it has the look and feel of a MAC Lustre lipstick but the staying power is much better! It can be blotted on for a nice pretty red stain, or applied at full strength for a gorgeous and modern red lip.
-ashley