Dear MAC,
You have made my lips look amazing for the past four years I have been obsessed with you, and we have shared some wonderful times. I thought I would never find another lip gloss that could make me look and feel the way you did. So I'm not going to make this have to be any harder than it has to be. MAC, I'm sorry, but...your spot as my all time favorite lip gloss has been replaced. I'm sorry, but Liptini's Topper lip glosses stay in place and have amazing staying power, not to mention they don't feel sticky or tacky (like some of your lipglasses do). They also are so versatile and look amazing on their own or over a lipstick. I'm sorry, maybe we can still be friends?

-Ashley
But seriously, Liptini is now my favorite lip gloss brand. When my digital camera gets fixed, I will post swatches just so you all can gush with me on how amazing these products are!
Lip Liquer Lip & Cheek Stain - SoCo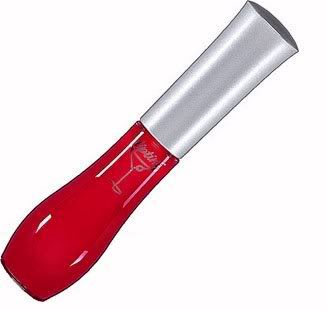 This is a gorgeous coral stain! Corals look amazing with my hair color, so anything coral is bound to be a winner with me. The staying power of this stain is amazing, and the color is gorgeous and so easy to apply! If coral isn't the shade for you, there are ten other shades for you to pick from! You're guaranteed to meet your match!
Topper Lip Glosses = <33333333
[L to R: Cherry Fizz, Blue Flame, Crushed Ice, Vodka)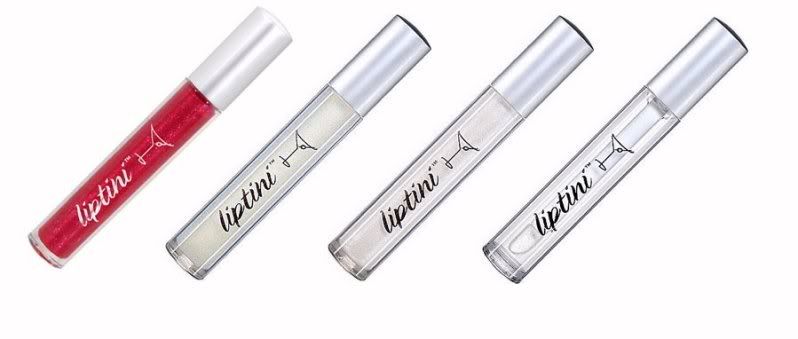 Cherry Fizz
Described as a "sheer juicy-red spiked with ruby shimmer", I completely agree. This is sheer enough to make your lips fresh and summer-y, but pigmented enough to wear on its own! This takes the place of my beloved MAC Lustreglass in "Venetian". The staying power of "Cherry Fizz" is better, the color is more pigmented and it's all around much prettier. This is my go-to sheer red gloss! This looks beautiful over pinks, reds, and corals. It also looks amazing on its own, which is a big deal for me. My lips don't have much natural pigmentation, so when I can say that I can wear a lip gloss on its own, you know the pigmentation must be amazing!
Blue Flame
Described as a "gloss with sheer blue-fire opalescence." When I first applied this, yowza! The blue fire opalescene really pops! This looks beyond amazing with hot pink/bright pink lipsticks. I love to sport this over Milani's Rose Hip and MAC's Girl About Town. You only need a little bit of product to get the full effect. That's another thing I love about Liptini's Topper lip glosses, a little bit goes a super long way!
Crushed Ice
Described as an "icy, frosted-pearl shimmer" lip gloss. The effect this gloss gives over lipsticks is out of this world. It really ignites the color underneath! I like to use this over red lipstick, the shimmery pearl effect looks great. If you have very pigmented lips, you could probably wear this shade on its own. My lips are very light, so I usually have to put this gloss over a lipstick.
Vodka
Described as "ultra shiny clear gloss". This provides the shiny and glossy look for your lips. This can go over any lipstick, or can be mixed with another gloss! I like to use "Vodka" and "Cherry Fizz" together! If clear gloss is a staple in your makeup bag/traincase, you have to get this. You just have to! Some might say "What is so special about a clear gloss?". I will tell you what is so special about this clear gloss! Like the other Topper lip glosses, it stays exactly where you apply it. It lasts and lasts, feels comfortable on, and the shine it delivers is impeccable! This has MAC's Clear lipglass beat by a milestone!
Sugar Rim
Described as a "clear gloss brimming with opalescent shimmer". The last time I reviewed Liptini, I gushed about this gloss and recommended that any lip gloss lover should get one (or two, or three) of their own! Seriously, for the love of lip gloss, this is a MUST. This could work on virtually any skintone, and the effect is amazing. All of liptini's "topper lip glosses" stay exactly where you put them, there's none of that unsightly lip gloss migrating to your chin! I have many lip glosses, but this one is one of my top #5 favorites, because it's so versatile and the shimmer is gorgeous. I see flecks of blue, green, red, pink glitters. I love that the glitters are finely milled so they're not chunky or super noticeable. It's very subtle, but in that context, the subtle shimmer/glitter is what makes it amazing. There's not too little, there's not too much, it's just PERFECT.
---
And now onto Liptini's sister brand, Nailtini...
[L to R: Kir Royale, Tahiti Breeze, Sugar Rim]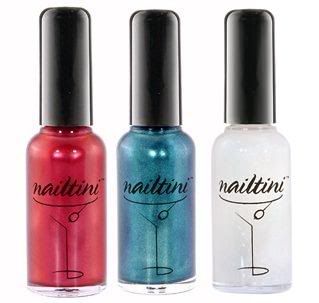 Kir Royale
Described as a "shimmering hot ruby red". I can see some orange tones in this nail polish. This color screams "SUMMERTIME!!" It's soo gorgeous, even my mom likes it! My mom is pretty hip for 50 years old, so that goes to show you that people of all ages can use this! This can work on virtually any skin tone, and I think that every different skintone could really bring out something special about this color!
Tahiti Breeze
Described as a "shimmering turquoise". This color reminds me of the ocean. The color is so rich that one coat shows up beautifully, but it's really an eye-catcher with two coats! However, one is enough for some! This, like "Kir Royale" is definitely a summer color. I could see myself wearing this in the Spring too! Maybe even year round, because I love the ease in which it glides across the nail.
Sugar Rim
Described as a "special-effect top coat to add a splash of dazzling multicolor glimmer". And that is exactly what it is. It's like Sugar Rim for your lips! This can bring a matte polish to life with it's unmistakable glimmer, or it can revitalize an already stunning nail polish! Putting this over "Tahiti Breeze" or "Kir Royale", I stared at my nails for nearly 5 minutes just admiring their beauty. Even after it was dry, I would catch myself trying to catch a glimpse.
To find a nearby Liptini/Nailtini retailer, click
here!
To place an order online, click
here
Liptini/Nailtini, you have established a fan for life.
-ashley