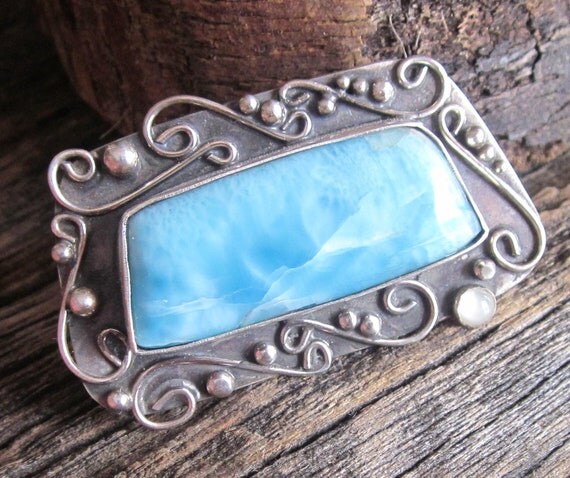 One of my new favorite jewelry designers, Nancy Green, creates gorgeous semi-precious gemstone jewelry with beautiful intricate sterling silver designs.
Nancy Green Jewelry
offers bold rings, lovely earrings, and pretty necklaces and bracelets. Nancy lives in Colorado, in the Rocky Mountains, and spends her time hand choosing each gemstone very carefully. Once she has a gemstone picked out, she lets the gemstone speak for itself and draws inspiration from it to find just what type of design she's like to make with it. She uses stones like turquoise, aquamarine, jade, lapis, chrysocolla, and more. She has a knack for choosing beautiful gems, and she really knows how to accentuate the gemstone's natural beautiful in the design of the silver that goes with it. Nancy is a true artist, and is self taught. She began silversmithing about 8 years ago, and before that she created wire jewelry and beaded jewelry. Nancy only choose high quality natural stones, so they really stand out as the focal piece in each of her pieces, whether it's a bold ring or a statement necklace. She creates each piece by hand, and really puts a lot of love and patience into each piece.
I recently got a gorgeous turquoise ring from
Nancy Green Jewelry
, and it's so stunning that I keep getting compliments on it. It's chunky, and bold, with a beautiful turquoise stone that takes center stage. It's sterling silver with a lovely design around the base of the ring, and a heavy duty adjustable band. This isn't your average adjustable band. it's not flimsy, or too easy to bend. Instead it's a thicker band that is soldered to the ring, and can gently be bent open to fit your finger I keep mine at about a size 7, which is basically nearly a full band as the base doesn't need to be opened up much to fit my finger. I can close the ring band a bit more if I like, or stretch it a bit more open, but the metal is strong and it gives slightly without making the band lose shape. The entire band and base of the ring is sterling silver, no silver plating whatsoever. This ring is so well made, the quality of the ring speaks for itself. The ring has some weight to it because of the size of the stone. This feels like a very expensive ring, but Nancy's jewelry is very affordable for the quality. Most pieces are under $100, which is absolutely fantastic for sterling silver jewelry and natural gemstones. I've seen jewelry of lesser quality, and of silver plated or brass pieces go for nearly double the price of what Nancy's pieces cost. Some high end stores carry big name brands that use silver plated or gold plated material and are flimsy and cheaply made, yet cost $100+. Nancy's jewelry is quality and made with real sterling without any of the fillers. She only uses quality materials and the quality of her jewelry speaks for itself!
You can see the beauty of the turquoise up close, and the detail of the silver design around the gemstone. The turquoise has a pretty shape and a wonderful vibrant color. So gorgeous! From the back of the ring, you can see that Nancy stamped it with her initials NG to show that it's her work and a true Nancy Green piece. You can also see the shape and thickness of the band, and you'll notice the small gap where the ring can be opened up if need be to adjust the size. My ring also has a heart stamped inside of the band, and small starburst designs around the outside of the band. It's a really personal and beautiful touch and makes me feel super special like the ring was made just for me. It feels great on my finger too, and I think it looks quite at home on my hand ;)
Nancy makes so many pretty pieces, and I am now a HUGE fan of her work and will continue to be so. I highly recommend Nancy's designs. She's already made a name for herself in Colorado, and her pieces are often noticed and recognized when worn. Her pieces are truly one of a kind! Since each piece is hand picked, each piece that she makes is one of a kind, and won't be the made the same away again, making each piece a one off truly unique piece of jewelry. I love my ring, and cannot wait to add more NG pieces to my jewelry box! Here are a few other pieces from her shop that I just adore:
Nancy offers really prompt shipping, and she's very nice too so if you have any questions about her jewelry you can contact her. Nancy also has a
blog
that she updates with photos of new jewelry pieces also. Be sure to check out
Nancy Green Jewelry
to see the entire collection of beautiful gemstone and sterling jewelry pieces.
DISCOUNT:
You can save 10% off of any order from Nancy Green Jewelry if you enter the discount code "DISCOUNT10" at checkout!