[click the photos for official product details]
LUSH Charity Pot - hand & body lotion
($20.45)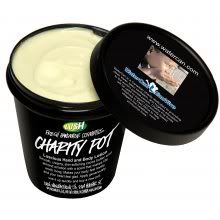 Moisturizing is a part of a healthy skin care routine anyway, so why not make a purchase that not only makes your skin incredibly soft and supple but also goes to a cause to support animal rights, protection for the environment and humanitarian concerns? Every penny (except taxes) goes to this fund. I think it's an awesome way to get the softest skin imaginable and give back.
Philosophy Oatmeal Raisin Cookie - shower gel
($16.00)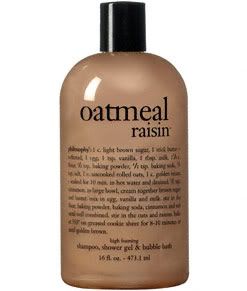 For two months only (August 15th to October 15th), 100% of proceeds from buying this shower gel will be donated to Cookies For Kid's Cancer - an organization created to raise awareness of and funds to assist research for creating new and improving existing therapies for children with cancer through the very concept of local bake sales. Visit the
Cookies For Kids Cancer
website to join the fight against pediatric cancer! The official website for CFKC has details on how to do more than just purchase this shower gel for a limited time.
Philosophy Shower For The Cure - shampoo & shower gel
($20.00)
Proceeds of this shower gel are donated to benefit the Women's Cancer Research Fund. Being a woman myself, I am very sensitive to issues like breast cancer. One of my cousins had breast cancer, and one of my mom's friends died from complications caused by breast cancer. It is an extremely startling reality that the lives of many women are changed annually by breast cancer.
M.A.C Viva Glam - lipsticks
($14.00)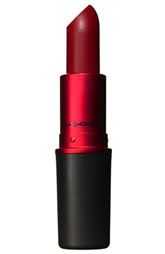 M.A.C started this campaign back in '94 and is still going strong several years later! Every cent of sales from any of the seven shades available to choose from goes to the M.A.C Aids fund - to assist men, women, and children living with HIV/AIDS. Celebrities such as Shirley Manson, Christina Aguilera, Fergie and Dita Von Teese have signed on as spokesmodels for the cause. One of my favorite lipsticks of all time is Viva Glam I (pictured). I love rocking the retro red lip, knowing that my purchase is helping out those in need. A very justifiable buy, in my opinion. Also, the basis of its appeal for many is that there is a shade for everyone, ranging from soft pinks to deep burgundy reds. You can also purchase a coordinating lipglass, available for shades VI/VI Special Edition and V. Look great for a cause!
Cargo Plant Love - lipsticks
($20.00)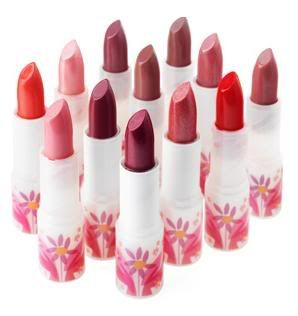 Since St. Jude is one of my favorite charities, I just HAD to feature this one considering $2 from every lipstick sale is donated to St. Jude Childrens Hospital. Also, the case in which holds the lipstick is made from corn. Therefore, it is very eco-friendly and greenhouse-gas neutral which assists in fighting global warming. Even the box is good for the environment! All you have to do is moisten the box after removing your lipstick, and plant it into the Earth to grow your own wildflowers. It's green beauty at its very best.
-ashley