You down with OCC? (Yeah, you know me!)
You down with OCC? (Yeah, you know me!)
Words cannot describe how much I love Obsessive Compulsive Cosmetics. The loose color concentrates are a worthy opponent of MAC pigments. I can't believe I'm about to utter such a thing, butttt I think that I might like OCC way better.
I adore ANYTHING with a blue undertone, and
Spectral
is no exception. It looks shimmery and white in the container, but when you swatch it or apply it to your lids or mix with clear lip tar, it's insane. I have never seen another loose pigment quite like it, much like lots of the OCC products. Besides insanely awesome pigmentation, the colors are beyond unique.
Also, mix it with
Frigid
and you get the most gorgeous shimmery ice princess baby blue ever. LOVE LOVE LOVE.
Authentic
is the most wearable penny colored copper I have ever seen. Most coppers I have tried tend to have a lot of red or pink in them, which can make my eyes look tired. But like with every other thing from OCC I have tried, I was far from disappointed. I love it as a wash of color on my lid, or in the inner corner. It's like MAC eye kohl "Teddy" in loose powder form with an extra dose of gorgeous copper shimmer. These colors are gorgeous!!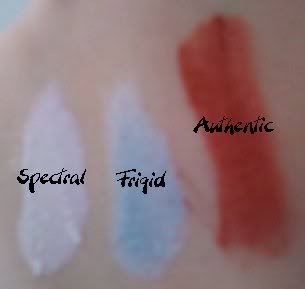 OCC was a huge hit at the IMATS and rightfully so. Everybody has been singing the praises of OCC lip tars, myself included. The staying power is out of this world, it dries to a nice matte finish but I don't notice any flaking like I have noticed with other matte products. I highly recommend a lipliner before applying lip tars so the product has something to adhere to and to prevent the possibility of 'bleeding' or 'feathering'.
These colors were just released from OCC: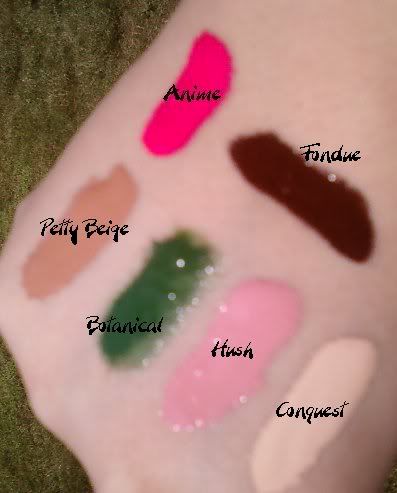 Anime
: (top row, left on hand and applied on lips with minimal natural pigment)
Seriously, how AMAZING is this lip tar?! When I first tried it on, I just HAD to take a picture to show people how gorgeous and pigmented and BRIGHT it is! It's soo bright and definitely catches your eye! When I looked in the mirror after applying, WOW. The effect was insane, I put a little bit of MAC 3D Glitter over it, and my lips were out of this world. I wear it around my house and it's probably one of my only makeup products that I can't stop staring at myself when I wear it. It's amazing, and I really recommend it to anybody who loves a bright and bold lip. Or even for somebody who rarely wears a bold lip but feels like making a statement. Look no further, this is without a doubt, the color that everybody needs in their collection whether they like bold lips or nude lips. It's THAT pretty. It puts every other hot pink lipstick/lipgloss I own to shame!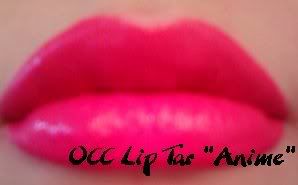 Fondue
: (top row, right)
This couldn't possibly have a better name. While it's not a color I could probably wear and successfully pull off, this would be perfect for character makeup. The name makes me think of this restaurant in my home state of Michigan that specializes in AMAZING fondue. Focus, Ashley, focus...
Petty Beige
: (bottom row, far left)
I could see this as a very wearable nude. I'm not much of a fan of nude lip colors, but applied sparingly (only a bit of lip tar goes a lonnngggg way), this could totally work for me. It's not too light to wash me out, but not too dark of a nude-y beige color to look awkward on porcelain skin. It has a teeny tiny bit of pink in it (or so it appears on my lips), and does have a bit of brown but not enough to take on a gray appearance (like other brown toned lipsticks/lip glosses I have tried). If you like nude lip colors, I suggest trying this out. And if you do, please comment and let me know what you think! :)
Botanical
: (bottom row, 2nd from left)
I love green makeup on my eyes. On my lips? Hmm, I don't think I have the confidence or 'tude to rock such an unconventional lip color but sometimes I slick it on my lips when I feel that my creativity needs a boost while applying to makeup to other people. It's a fun color to wear in private, but I don't know if I could debut this one out on the town. Maybe one day. I also used to say that I could never wear a red lip or hot pink lip back in high school. And now reds and hot pinks dominate my lip products in my train case! So maybe one day, I could give this a go in public. But that day isn't today, sadly. If you're into character makeup and avant garde or if you have the confidence to rock this, go for it. Inspire others to make bolder choices with their makeup, and let the rest of us who are too afraid just remain green with envy for your confidence...pun intended. Even though it wasn't too funny, lol.
Hush
: (bottom row, 2nd from right)
This is such a pretty baby pink. I could see this working as an everyday lip with a natural look, a pretty flush of pink to wear as you walk down the aisle on your wedding day, or even to compliment smokey eyes. This shade could work with any kind of smokey eye (black, gray, brown, or even if you prefer jewel toned smokey eyes!). This color looks amazing with NARS Orgasm and MAC Blonde MSF. It's the perfect light pink lip color to accomodate glowy pink cheeks. Highly recommended.
Conquest
: (bottom row, far right)
This is like MAC's Myth lipstick and C-thru lipglass in one. This could be a better (and safer!) alternative to using concealer on your lips to mute the natural pigment - considering that some of the ingredients used in concealers are not meant to be injested. There is no trace or orange or brown detectable. Using a thin layer, it erases just about all traces of natural pigment...providing a base for any lipstick to really make any lip color pop. As a stand alone color? I personally wouldn't wear it, although I know MANY who would. It's just not my personal preference. As a lipstick base? Definitely.
Check OCC out if you haven't already! Makeup artists and makeup addicts like myself have been buzzing about OCC before, during and after the IMATS. If you haven't checked out OCC yet, I think you should. Like, soon. Sooner than soon. Like, now.
-ashley