I have made numerous posts singing the praises of Lipstick Queen and how much I adore the brand. So you can only imagine my excitement when I was given the opportunity to do an interview with the creator and genius behind Lipstick Queen and
author
, Poppy King: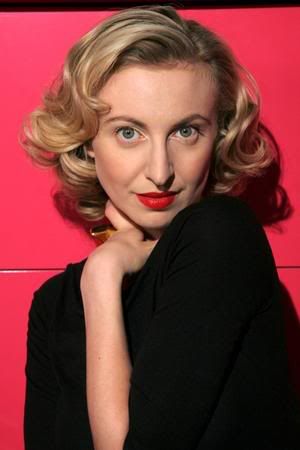 Besides being beyond gorgeous, she's a seriously driven business woman! She made her debut in the industry at the age of 18 after noticing the lack of matte lipsticks available so she took it upon her genius self to fill that void! I asked five questions that I have always wanted to ask her, and here is what she had to say:
----
Ashley:
Hi Poppy! First, just let me say that you are my idol. I hope that one day, I can turn my love for lipstick and cosmetics into a successful career like yours! You have paved the way for so many, and proved that perseverance and dedication are among the main ingredients to making any dream come true! My first question is; how do you come up with such unique ideas for your products (Chinatown glossy pencils and the latest 15 minutes of fame pop art glosses, for example)?
Poppy:
Thank you for your lovely words! You can do anything with passion and persistence.
Ashley:
Where do you look for creative inspiration?
Poppy:
I find my creative inspiration in the wonderful experiences I have with people, art, films, literature and words. I can find inspirations for new colors just by hearing something someone says to me.
Ashley:
I LOVE the 30's, 40's and 50's era of makeup. The women looked so glamorous and exuded such confidence! What is your favorite historical era of makeup and why?
Poppy:
The 30's and 40's are my favorite for sure because women looked beautiful and empowered with a sense of self rather than like cupcakes with frosty pink all over them. I loved the clothes in the 50's but prefer the 30's and 40's for make up.
Ashley:
In your opinion, what constitutes a 'Lipstick Queen'?
Poppy:
It is an attitude thing. You can be a lipstick queen without actually wearing lipstick. It is about feeling strong and ready to participate in the world.
Ashley:
What is your favorite 'look' to sport on a daily basis, and what are your favorite cosmetic products used to create your signature look?
Poppy:
Red Lipstick is my favorite cosmetic in the whole world and I love wearing it just with a little mascara (Maybelline Colossal) and some blush (NARS Orgasm) and no other make up.
Ashley:
I'm sure the life of a Lipstick Queen is very busy and chaotic so I will keep this short, but I just wanted to say thank you for your time! :)
Poppy:
THANK YOU! xx
----
And there you have it, straight from the Lipstick Queen herself! I am extremely thankful that Poppy took time out of her day to do this interview with me! She is AWESOME!
-ashley