Before I even started writing this review right now, I was flipping through People magazine (December 14th issue) and saw that Armour Beauty was featured! Apparently I'm not the first one to fall in love with Armours lip glosses!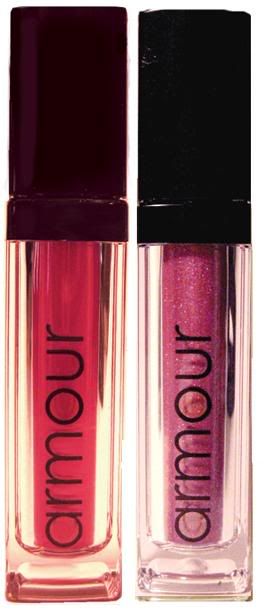 [click on the pretty glosses to see the available shades!)
There are two formulas: opaque or shimmer so there's at least one or two (or three, or four shades...) for everyone!
*
Pictured left is "Cat Club" in an opaque finish. First, all I can say is WHOA this is an awesome pink! I'm obsessed with pink lipsticks and lipglosses, so anything pink is going to make me one happy girl! I think the color is strikingly similar to M.A.C's best-selling lipglass "Pink Poodle". Only with a better (in my opinion) formula! Anyway, this color is HOT. It totally made me feel like a rock-star...
Pictured right in "Dreaming" in a shimmer finish. I usually wear light shimmery colors during the day, but this gloss could be a pretty huge part in a "day to night" look. It's sized conveniently to fit in your purse if you feel like packing a pretty shimmery light plummy bronze-y color any time, anywhere. Results can always change though, based on your skintone and natural pigmentation of your lips. I thought that maybe this would be similar to M.A.C's lipglass in "Soft N Slow" but the two are somewhat similar, but I think, once again, I might actually like this better...
For the love of cosmetics, this gets my "kiss of approval". Most definitely, yes. I love this. If you love lip gloss or if you want to try something new, look no further.
Thanks Armour, for letting me try out your product and to share my opinion with the rest of the beauty blogging community. :) I think it's so cool that the lip glosses are each named after a rock song, clubs and icons! Thanks Theo, you're awesome!!
-Ashley