Where have you been all my life, Color Club/Art Club?!
The holidays are coming up and I am going to be featuring some awesome brands and products to give to any fellow beauty junkie!
Rave #1: Color Club Lip Glosses (from L to R: Red Dress, Pink Power, Juicy Jolt, Party Girl)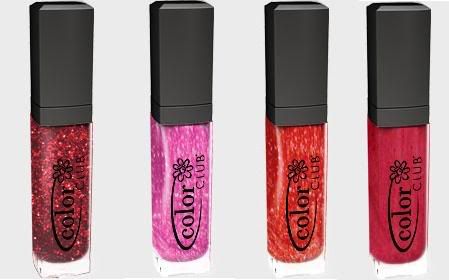 -Red Dress: Ohhh my, goodness. If any lip product could give the appearance of Dorothy's ruby slippers, THIS is the one! It looks best over a red lipstick, or a red lipliner if you're not a fan of lipstick. However, I am a HUGE fan of lip stick so I have every intention of wearing this to holiday parties. As soon as I swiped it on my lips, I felt so much more festive and cheery, that says a lot coming from somebody who has been somewhat of a Scrooge this year! I think this gloss cured my "Bah humbug!" blues...
-Pink Power: This is an electrifying bright pink. Perfect for me, it goes with any bright pink lipstick. My lipstick arsenal contains mostly reds, corals, and bright pinks so this adds a perfect touch to the days I feel like rocking a super bright pink. I noticed this stuff is quite pigmented yet the color is still very build-able if you're nervous about rocking such a hot color.
-Juicy Jolt: What an awesome fruity color! The color reminds me of fresh melons/cantaloupes! This shade, like Pink Power, is quite pigmented yet build able if you don't want a bright orange mouth. You can blot it down as a stain if the light stained effect is more your forte. Or you can wear it in all it's bright glory (like I prefer too!)
-Party Girl: This is beyond gorgeous. It's definitely not a one dimensional color, it shows hues of dark berry, red, and a deep rosy pink. When I wore it in the natural sun, it looked like a gorgeous deep berry red with tints of pink. However, when I checked it in my bathroom mirror, it looked more of a red pink. I love colors that change with lighting, it's like getting to wear a few different looks all at once! This color is just so dang pretty, you can apply it opaquely or blot it down for a gorgeous stain.
*However, with all of Color Club glosses, I recommend wearing them in their full glory...the colors are too gorgeous to
not
show them off!*
The verdict: You NEED to check out Color Club lip glosses! The colors I featured are pretty bold, but that's my preference. This review only represents four glosses out of many shades that are so worth checking out! I love the formula as well! Why don't you see for yourself which
shades
catch your eye?
Rave #2: Art Club Nail Color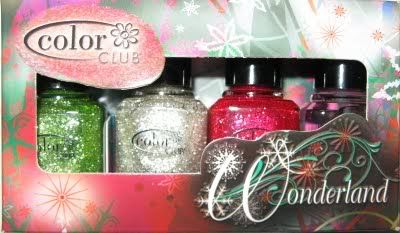 The mini-holiday kit is PERFECT for the holidays! This kit comes with three very festive and sparkly colors: green, red and silver! Also, a clear topper to seal in the color. The green and red are somewhat see-through but you can layer coats to make the color more opaque or you can use a color base in red or green and then top it with the glitter to really a pack a colorful punch! However, I have been wearing these beautiful colors for 3 days now and I haven't had a problem with chipping...and I didn't even use the top clear coat! However, it's always recommended because everybody is different and what works for some, may not work for others.
The awesome thing about Art Club is the various collections you can choose from, there is one kit that includes metallic shades (gold, bronze, and silver!) with funky crystals and jewels to add to top off your design or if you're really crafty, you could use the little jewels in makeup application. For example, I was trying out a "Teardrops On My Guitar" inspired look, and I glued the mini stars from the "Pretty Shiny Things" on my face with false eyelash adhesive.
Note:
However, if you're going to take that route, always be careful and keep eye safety in mind during application!
Check out all the awesome nail colors for yourself, the possibilities for creating your own designs are endless!
A VERY special thanks to Color Club/Art Club for being the awesome brand you are and for letting me feature you on my blog for my readers and for reviewing these products!