Luscious Cosmetics Lip Polish & Lip Delites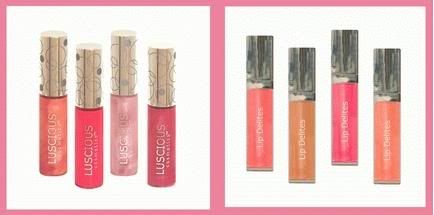 Lip Polish
has nine gorgeous and ultra moisturizing shades to choose from! I love the wear of these, they feel so good on your lips and they smell fantastic! The color is sheer, yet build-able. "Rio" and "Nice" are the two shades I tried. "Rio" reminds me of MAC Lustreglass in "Venetian", it's a very pretty sheer red gloss with golden accents that make your lips look fuller! My lips are already pretty full, but this made them look juicy and plump! "Nice" is a gorgeous pink that warms up your complexion and looks perfect in the day with rosy cheeks and mascara, and complements a smokey eye just as beautifully at night! In my opinion, these lip polishes are a staple for anybody who wants to create a gorgeous "day to night" look!
Lip Delites
come in fourteen shades, they apply very sheer and have the prettiest accents in them. "Catalina" has such a gorgeous golden sparkle to it, and these glosses are infused with Maxi-Lip, an ingredient that helps stimulate natural production of collagen in the lips! With regular application (1-2 times a day) for about a month, your lips should look noticeably plumper (about 40%, according to the website)! I haven't stuck with the regular application for a month, but I'll try it out and blog about my results after I finish a month of regular use! However, the plumping properties are only an extra perk...the sheer color and wear of this gloss is impressive enough in my opinion!
check out Luscious Cosmetics!!
-ashley