I received these lipsticks less than 30 minutes ago, but I love them so much that I just *had* share swatches and publicly declare my love for them. Make Up For Ever never lets us down - releasing FIFTY shades of the new Rouge Artist intense lipstick formula! The color is saturated and gorgeous, the wear is very comfortable and very impressive as far as lasting power goes. Everything I love in a lipstick is present with Rouge Artist Intense! The swatches on my hand and lips were taken with flash, but the product photos were taken in natural light to give a better view of the actual color.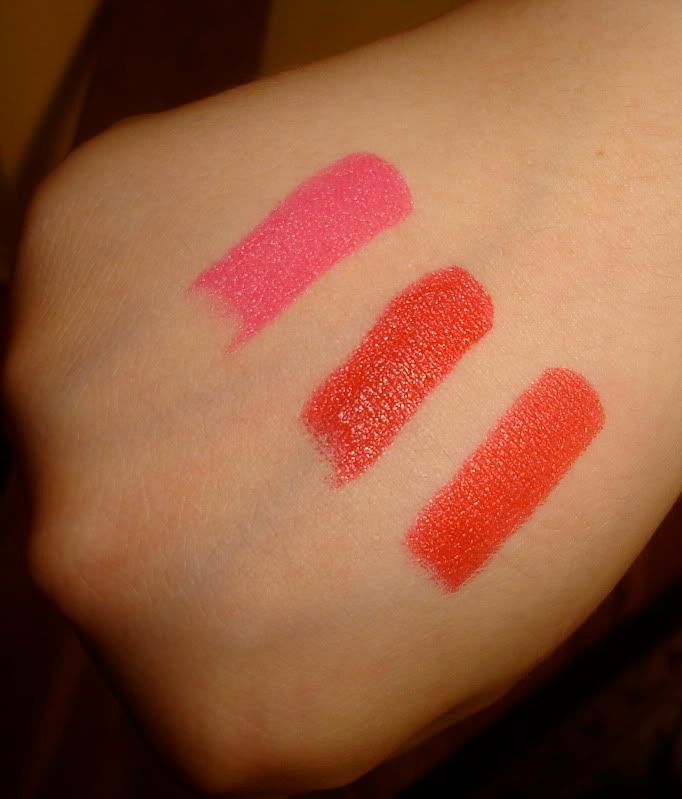 [ Top: #36 / Middle: #43 / Bottom: 21]
#21 (pearly bright red)
I love the pearly finish of this shade! It reminds me of M.A.C Port Red (one of my favorite discontinued shades), it's a gorgeous red with a slight metallic look that is extremely flattering! I can already see myself needing several back-ups of this shade!
#36 (satin fuschia)
I love brights, so one can only assume my excitement to see such a vibrant bright pink! I can't get over how comfortable these lipsticks feel! This is such an amazing pink, and I'm known for my bright pink or red lips so this shade is no exception. I knew I would love it when I saw it in the tube, and I loved it even more after I applied it.
#43 Moulin Rouge (satin vibrant red)
This shade is going to be part of the upcoming Fall 2010 Moulin Rouge collection (can't wait!). It's a very flattering red and looks great with my wavy red hair. Very Satine-esque. I love love love it. I could wear this shade everyday. That's how much I love it, and I think this shade would suit a wide array of skintones. And how cute is the packaging?!
Make Up For Ever
once again continues to astound me. Keep up the AMAZING work!!!
Be sure to check out
Rouge Artist Intense lipstick
at Sephora!
-Ashley