Cruelty free (no animal testing)
and
organic environmental friendly cosmetics?
Where do I sign up?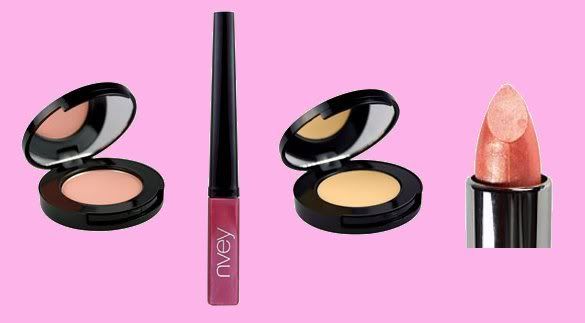 I am very happy to review a few items from Nvey. I love this brand not only because of the high quality items they produce, but also because they don't test on animals, and they use all natural ingredients in their cosmetics.
I will be reviewing a corrective concealer (in the shade "Neutral"), a light shimmery pink eyeshadow (#159), a denim blue eyeshadow (#166), a blush (#952), a raisin colored lipstick (#366), a berry colored lip lustre (in "Berry Delight").
Organic Erase Corrective Makeup (in "Neutral")
I was unfortunately cursed with dark undereye circles that are always present, even if I am well-rested. They are very difficult to cover, I usually need to layer a corrective concealer, a regular concealer, and powder in order to cover them up. This product cut my "erase undereye circles" process in half. This single product does the job of a corrective concealer
and
a regular concealer! Instead of using three products to erase my circles, now I only need one. Awesome.
Organic Eyeshadows (#159, #166)
These eyeshadows blend seamlessly and wonderfully. The pigment is easily picked up by an eyeshadow brush and easily blended with an eyeshadow blending brush or a finger. The light pink shimmery shade really pops on the brow bone. I can imagine these shades working on any skintone as a sheer wash on the eyelid (if you're not skilled at applying eye makeup) or as one of many shades combined to create an eye with more than one dimension.
Organic Powder Blush (#952)
This blush works as a bronzer or a blush, based on your skin tone. I have been looking for the perfect shade to use as a bronzer or a blush, and I think I have found it! The light shimmery golden bronze gives me a light bronzy glow when I want it, without making my face look dirty or streaky.
Organic Lip Lustre (in "Berry Delight")
My favorite thing about this lip lustre is the fact that it is a medium berry color that can be worn as a light berry stain or a layered to a deeper, more opaque shade of berry. Perfect for those days when you don't want to look like you have makeup on, but you want to look effortlessly gorgeous. Or you can deepen the color for a more dramatic statement. I can imagine pulling this shade out in any season. I can see myself wearing this on a summer date, on a fall day, at a winter holiday party, or just hanging out at the start of spring.
Organic Lipstick (#366)
This shimmery purple lipstick would look great on a skintone with "cool" undertones. Perfect for creating a high fashion or unconventionally beautiful look.
Shop now for cruelty free and eco-friendly cosmetics!