Illamasqua
is a fairly new brand, still making a name for itself in the States and is proving to be quite a competitor for M.A.C! The pigmentation of the products and the color selections are very impressive!
Lipstick in "Corrupt"
This color is described as a warm bright pink on the official website, and Sephora describes it as a matte hot pink. I'm a HUGE fan of bold lips and this lipstick is no exception. The lipstick is rich and creamy with beautiful pigmentation. The color is bold and sassy. This lipstick suits both warm and cool tones. I have neutral tones and it really perks up my fair complexion and it looks just as great on my sister who has very warm tones. In the photo swatch below, "Corrupt" and "Temper" are applied on her warm tones. I like to wear this with a magenta lipliner. With a single application, I'm confident that this color will last me for several hours! Due to the matte texture, you can wear it in all of its bold matte glory or gloss it up! I just adore
Illamasqua lipstick
! You can also find this fun color at
Sephora
!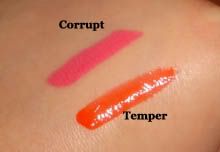 Intense Lipgloss in "Temper"
This lipgloss is VERY intense as far as pigmentation goes. You only need a little bit to make a colorful and bold impact. I love this bright tangerine gloss, it's perfect for Spring and Summer! I imagine this color could suit both cool and warm tones. On the above photo swatch, it was swatched on a very warm complexion. I think this lipgloss can be dressed up or dressed down, perfect for a warm Spring/Summer day or for a night out! The texture is thick, but not goopy or uncomfortable. The smell is divine. It has a slight fruity smell that I adore. I think this lipgloss will last a long time, a little goes a long way! Orange and tangerine shades were all the rage on the runway in Fashion Week, and this color will make you feel like you're on the catwalk because it's so trendy and surprisingly wearable for being such a bold shade! If oranges aren't your 'thing', don't fret! You're bound to find a color for you, there are so many shades to choose from and Illamasqua also offers many equally sassy and sexy colors in the Sheer Lipgloss collection. I really love
Illamasqua
!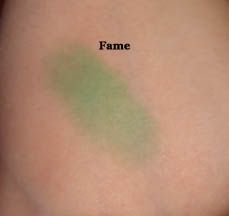 Power Eye Shadow in "Fame"
I was surprised at how sheer this eyeshadow is! In the photo swatch, I layered the eyeshadow three times to achieve the color shown. I think the most accurate description for this shade is Granny Smith apple green. It's bright, it's fun, it's the color of Spring/Summer! Due to its sheer coverage, you can wear it as a part of your daytime or nighttime look! Greens and purples are my absolute favorites when it comes to eyeshadow shades, they really bring out the golden flecks in brown eyes! I think this color would look fabulous on every eye color: bringing out the very best from baby blues, gorgeous greens, heavenly hazels and bewitching browns! I also really like the packaging, it's a really sleek black packaging with a clear inlay on the lid! You can check out
Fame eyeshadow
at Illamasqua.com!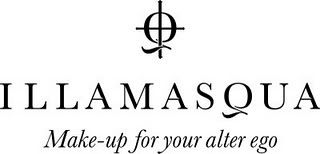 -Ashley
*These product samples were provided for review. However, the opinions expressed in this review are my own.