I heard about Palladio a few months ago and I was curious! They were kind enough to send me a few products to try out for myself, and to feature on my blog! I was so excited when it arrived in the mail, I opened the package and took in the beautiful sight before me: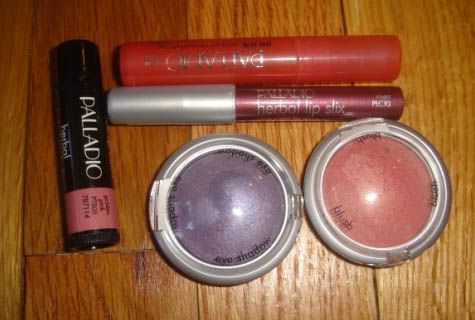 Baked Eyeshadow in "Plum"
I loved baked eyeshadows because the color is always very rich and can be applied wet
or
dry! In the swatch, I applied this eyeshadow both wet and dry so you can see the difference! This shimmery purple hue brings out the gold in my brown eyes. I honestly think the pigmentation of this eyeshadow (when applied wet) is comparable to M.A.C Frost finish eyeshadow. It's such a pretty light, and luminous shade of purple! The color intensity is buildable, perfect for a sheer wash of color or applied heavily to a deeper hue. The shimmer is so gorgeous, probably my favorite aspect of the color. I love shimmery eyeshadows, they have the ability of catching the light in the most flattering of ways. Palladio also has baked eyeshadow trios!
Shop
online at Sally Beauty for this item.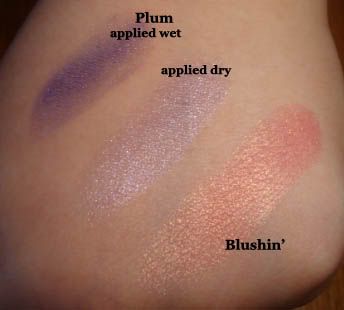 Baked Blush in "Blushin"
HG material! I think this blush has an uncanny resemblance to cult fave NARS Orgasm blush. The subtle golden shimmer makes this color extremely flattering. I imagine this color would flatter each and every skintone. I have very fair skin and this blush instantly perks up my complexion! This blush is very buildable. One application offers a very nice golden pink shimmer and you can easily add more to achieve a deeper flush. I use my E.L.F Powder Brush (excellent dupe of M.A.C 187!) to evenly distribute the color in the most flattering way. However, any blush brush will do the job!
Shop
online at Sally Beauty for this item.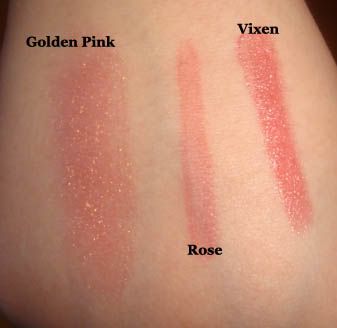 Tinted Lip Balm in "Golden Pink"
I love golden pinks: blushes, lipsticks, lipglosses...and now I can lip balm to that list! This lip balm is extremely pigmented! One swipe of this and I was quite surprised at how much golden shimmer this little tube of lip balm packs! The golden shimmer slightly reminds me of M.A.C Lipglass in "Nymphette". It's easy to O.D on golden shimmer so only one swipe is all you need! I imagine this tube will last me a very long time due to the pigmentation! It's very moisturizing as well! There are eight colors to choose from (including "Golden Pink"). I think each and every person can find their perfect match!
Shop
online at Sally Beauty for this item.
Lip Stain in "Rose"
I LOVE this! With careful application, this resists feathering and smudging pretty well. In fact, I applied this one evening and when I woke up, my lips were still stained a gorgeous pinky red. I was surprised at how natural this lip stain looked. It didn't feel sticky when it was drying like I have experienced with other lip stains. The color is buildable to a deeper pinky red if you desire more color. I think this will suit every skintone: not too overwhelming for fair skin tones (like mine), and very natural looking and flattering for deeper skin tones. I really really like this lip stain. I love the ease of application: simply line your natural lip shape and then fill in! I didn't notice any dryness or discomfort that other lip stains have caused. There are six shades to choose from (including "Rose")! However, I think this one is very universally flattering and definitely worth a try!
Shop
online at Sally Beauty for this item.
Lip Slix in "Vixen"
Everything about this lip gloss crayon is a winner for me: the color, the feel of it on my lips, the ease of application and the staying power. Even though it disappeared after eating and drinking, I could see a bit of the color left over. That's extremely impressive for such a glossy crayon! This color is a very pretty light berry color that is semi-sheer yet very buildable. One swipe deposits an impressive amount of color but you can layer it for more intense color. There are six shades to choose from (including "Vixen") and I hope to try the rest of them someday! This glides on very smoothly and it's so easy to apply. Like the other previously mentioned products, I can see this lip gloss crayon suiting all skin tones! One of the things I love so much about Palladio is how universally flattering the colors are!
Shop
online at Sally Beauty for this item.
So where can you purchase Palladio products? You can shop
online
at Sally Beauty, or go to your
nearest Sally Beauty store
and check out Palladio in person!
To learn more about the brand, check out the
official website
.