First let me start off with saying how excited I was to find a store that specialized in lip products. I love everything to do with lips: lipliners, lipsticks, and lipglosses. I am fascinated with lips: the color, the size, the shape, I just love them. One of the many really cool things about the Saint/Sinner lipsticks is that each lipstick has a sheer or opaque twin. How cool is it that the creator of Lipstick Queen (Poppy King) launched this line when she was only 18 years old? I think that is awesome and so inspiring! This brand makes my lips happy. [all images are clickable]
Anyway, on to to the review...
Saint Lipstick in "Saint Rose"
The "Saint" lipsticks of this brand are very sheer, but there is enough pigment to notice. These lipsticks can be appreciated by seasoned lipstick lovers like Poppy (and myself)! Or by somebody who usually doesn't wear lipstick, but still wants sheer yet beautiful color. The color I'm reviewing is "Saint Rose". It's a gorgeous deep rosy pink. My lips aren't very pigmented so it glides on as a gorgeous medium rose, that deepens to a slightly darker rose pink if paired with a neutral lipliner. It's sheer, doesn't feel greasy or slippery. I love love love this color, and can't wait to try the other shades in the "Saint" line of this brand!
Sinner Lipstick in "Natural Sinner"
The "Sinner" lipsticks of this brand are very pigmented and opaque. I love lipstick, so I love both formulas of this line (saint and sinner). The color I'm reviewing is "Natural Sinner". It is definitely MLBB (M.y L.ips B.ut B.etter) shade. My lips are often very pale, so this is perfect as a base color for lipstick or gloss or on it's own! This color brings my lips to a gorgeous naturally pigmented color, but way better! It looks sophisticated and polished. My favorite way to apply this shade is to apply it directly to the middle of my bottom lip and spread it out to the edges. I can't wait to try the rest of the shades in the "Sinner" line. I love the colors to choose from, the formula and it definitely lives up to its promise of delivering 90% of pigment.
Big Bang Illusion Gloss in "Creation", "Energy"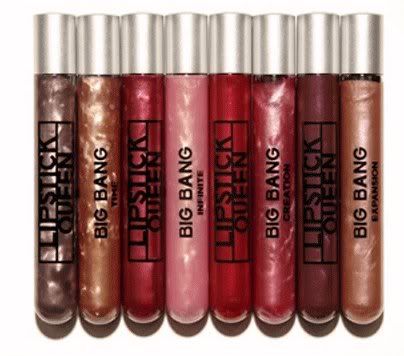 First, let me say how much I love the adorable "test tube" packaging. I was surprised at how much product you get! I can't wait to pull this cute little gloss out of my purse and show people. "Creation" is a gorgeous rosy pink with beautiful shimmer and shine (sixth from left side). One of my biggest complaints about lipglosses in general is that sometimes a lip gloss can feel slippery. Not these babies, these apply sheerly and I find them the color to be very buildable...which I absolutely love in a lipgloss formula because it's so much better (and time saving) to add more than wipe some off! "Energy" is a bright true red with stunning shimmer (fifth from left side). I love my red lipsticks and red lipglosses, so this was an amazing addition to my collection of red lipsticks/red lipglosses!
Shine-Hard Core Gloss in "Red Sinner"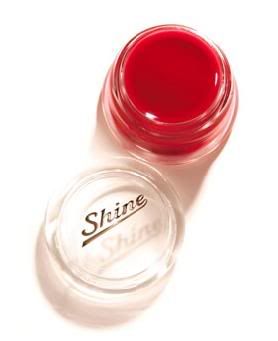 There is no lie about this gloss being "hard core". It comes in a cute plastic pot, and you gets tons of product. Again, I was surprised at just how much you get! The gloss texture is thick, but I'm not bothered by it one bit so I highly doubt that many others would be bothered by it. It is very long lasting, and the color is a bright and captivating red. I used to have to layer a lipliner, lipstick
and
a lipgloss to get this exact color and a similar look. This one product gets rid of two of those steps, reducing it to just one step: apply the gloss, and you're good to go! I adore the finish of this lipgloss! The three things I look for in a lipgloss are the color, the texture, and the finish. The color is gorgeous, I don't feel like my lips are slipping, or like my lips are being weighed down by a heavy gloss, and the finish is unlike anything else I have ever tried.
You can place your online orders here,
or
You can shop by region and find a store near you that carries this fantastic line!
I think it is safe to say that I am
in love
with the "Lipstick Queen" brand.
-ashley