This is definitely a revolutionary mascara.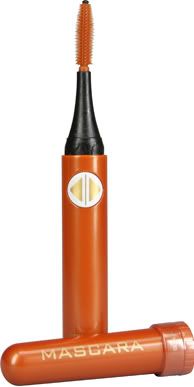 The formula doesn't flake off or smudge easily, the brush rotates 360 degrees to ensure no clumps or "spidery" lashes. I sometimes have the tendency to clump at the root of my lashes to fake the illusion of fullness, but this was no problem for me. I noticed my eyelashes appeared longer and there was not a sign of clumpy 'spider' lashes! Holding the product upright, if you press the button on the right, it rotates clockwise for upper lashes. If you press the button on the left, it rotates counter-clockwise for lower lashes. I'm the biggest klutz ever with applying mascara on the lower lashes, I always get some on my undereye skin and mess up the good job I did of concealing my undereye circles. I no longer have to wipe off the mascara smudges and re-conceal under my eyes with this product. I love it, it's simple technology but it really does make a HUGE difference!
It's definitely worth a try, you can choose in either "black" or "brownish black". Spin Lash mascara isn't carried in stores, so what are you waiting for?
[click the image to shop]