This has quickly become one of my favorite brands. I love the packaging, and all of the products this brand offers. I am reviewing a flavored lip shine, and the "Natural Beauty" match box.
"Natural Beauty" match box
[click the image to shop]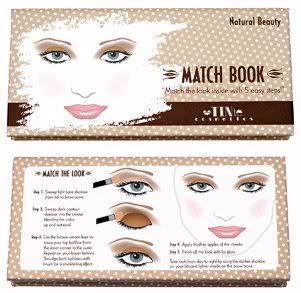 This is a complete look in one package. It includes two eyeshadow colors (a very light basic nude beige, and a slightly deeper bronze shade for contouring), a cream eyeliner, 2 brushes (double ended: eyeshadow contour and eyeliner), two lip gloss shades (a light peachy pink, and a light bronze-y caramel), and a cheek color in a medium bronze-y shade. The only thing you need to add is mascara! I don't think it gets better than that, it's small and compact and can fit into your purse! It also includes a mirror for on-the-go touch ups. Perfect! You can also purchase a "Blushed Beauty" and "Smoky Eye" match box! Impressive, TINTe!
Flavored Lip Shine in "Mynt Kiss"
[click the image to shop]

One of my favorite things about this lip product is that the color can be built from a sheer, natural shade of pink with shine and shimmer to a deeper pink-y red with loads of shine and shimmer. You can adjust the color to whatever intensity you want! The color is gorgeous, and I think that anybody, of ANY skin tone can pull this shade off beautifully! I love universal shades like this! This lip shine has a strong mint smell. It freshens your breath a little bit, just a side note for ya. If you love pink-y red shades and you love things with a minty smell, this is definitely the lip gloss for you (especially because of it's universal ability to work on anyone!)
Check this brand out!
[click the image to shop]